The Echo Nest joins Spotify

We're very excited to announce that The Echo Nest is joining Spotify, starting today! We can't imagine a better partner for our next chapter. Spotify shares the intense care for the music experience that was the founding principle of our company, and it's clearly winning the hearts and minds of music fans around the globe. Our dedicated team of engineers, scientists, music curators, business, and product people are utterly electrified with the potential of bringing our world-leading music data, discovery, and audience understanding technology directly to the biggest music streaming audience out there.
Together, we're going to change how the world listens.
We started this company nine years ago in a kitchen at the MIT Media Lab, our dissertation defenses looming. We never wanted to do anything but fix how people were discovering music. None of the technologies in those days were capable of understanding music at scale. We both were working on our separate approaches, that, when combined, could really do that. All the while, we were watching the world of music change around us. We knew some version of Spotify was to come, and that the real power was in that beautiful moment when you found a new band or song to love. Every decision we've made since then, including today's announcement, was made from that vantage point of care and often insane passion.
Starting a company is a bit crazy. You get the idea you can build a family from scratch and let them loose on the problem that drives you. We moved into an empty room in Somerville, MA in 2005, were soon joined by our CEO Jim Lucchese, and then grew a team of around 70 people, all through the power of communicating our one big idea. It's hard to overstate how special this place is. With the team we have, we always have every expectation we can do whatever it takes in the service of music. We've written a lot of code, we've invented technology that will power the future of music for decades to come, we manage reams of data, and we work with everyone in the business. But the true power of this place stems from the people: an amazing family, fully dedicated to building the future of music.
We had such great help on the way. Tristan & Brian's advisor at MIT and one of the fathers of computer music, Barry Vercoe, supported us through seed investment when we graduated, and when Jim joined, we brought on our dear friends Andre and Dorsey Gardner at Fringe Partners. As we grew, we tapped the great support of Elliot at Commonwealth, Antonio at Matrix and then Jeff at Norwest. And in between was the help and support from dozens of family and friends. We couldn't have done it without them.
Obviously, moving from behind the curtain to the front stage comes with its own share of questions and challenges. We've been lucky enough to work with a wide range of creative companies and independent developers who showed the world what could be done with our technology. They helped us craft and refine our product to where it is today. We look forward to working with partners to embrace the new opportunity to build apps and services using The Echo Nest and Spotify. As we explore this new direction, we'll help each other move forward.
When we began talking with our longtime friends at Spotify about working together, it became clear how much they share our vision: care for the cause of music at scale. We spent our first weeks together just giddy at the potential of all that special Echo Nest magic working directly with the world's best place for music. You're about to see some great stuff from the new Echo Nest-enabled Spotify, and we're excited to hear what you think. We're all staying in town, our API stays up, and every single person at our company will continue to focus on building the future of music. Talk to you soon; we've got some work to do.
For more information, see our press release.
with Aaron, Elissa, Tim, Paul, Matt, Mark, Joe, Eliot, Kurt, David, Dave, Amanda, David, Connor, Shane, Ned, Owen, Ellis, Andreas, Glenn, Joe, Dan, Nick, Aaron, Chris, Aaron, Stu, Kevin, Jason, Ajay, Michelle, Jyotsna, James, Hunter, Erich, Andrew, Nicola, Scott, John, Matt, Matt, Eric, Dylan, Eli, Michael, Adam, Alex, Colin, Jonathan, Marni, Smith, Krystle, Eric, Ben, Conor, Victor, Ryan, Bo, Michael, Athena, Chris, Gurhan, Peter, Kate, Bo, Scott, Jared, Darien, Matt, and Wayne.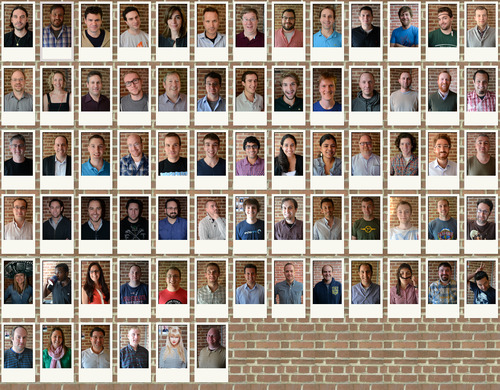 ---